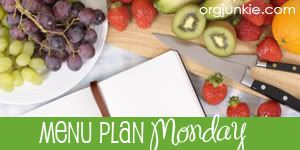 Birthday week's over! And it was great. But now I've got to concentrate on being healthy. This post over at
Whole Body Love
sums it up. The good thing is that I tend to eat better in the summertime and its easier to exercise when it isn't dark and gloomy outside. So I just have to get into a routine now.
Here is the plan for this week. Sorry it's a day late.
Monday: Dinner out with a friend
Tuesday: probably something easy at home like a salad.
Wednesday: Lettuce Wraps
Thursday:
Arugula Salad with Peaches and Blue Cheese
Friday: Tequila Lime Shrimp Tacos
Saturday:
Chicken Thighs with Artichoke Hearts and Feta
Sunday: Out of town for Father's Day
See what others are cooking at
Orgjunkie.com