What a Lovely Honey Jar!
Everytime I check out
Lovely Package
- I always want to purchase half of the items they showcase. Just as the name of the blog suggests - the design aspect of the packaging on these items is always just lovely. Of course, its always
Milk from Canada
or
Chocolate from Wales
... but this time it was Honey that caught my eye. Go figure.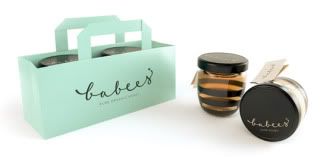 This
Babees Honey from Poland
is the cutest design for a honey jar I've seen. The lovely bag that comes with it just tops it off. According to
this article
it is suppose to encourage kids to reach for the honey not the sugar. I don't know how attractive this design is the kids - but I love it.
Anyways I love it. Just wish I could get my hands on some to try.