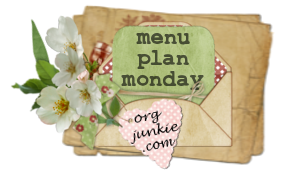 So I said I wasn't going to do a plan this week... but I changed my mind. Something really fun happened last week as a result of my posting my plan... I had people requesting to come over for dinner! haha. How perfect. So if you read something yummy and want to participate in the eating one night.. Just let me know. I love impromptu dinner parties.
So here is my short week:
Monday - Out of town
Tuesday - Out of town
Wednesday - Going to a show
Thursday -
Pork Chops, Pineapple and Chili Slaw
Friday - Walnut, Blue Cheese, Cranberry Salad
Saturday - plans
Sunday - Chicken Escondido
That's just three nights of cooking. An easy week for me! Check out
Orgjunkie.com
for more MPM!