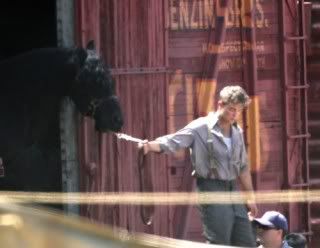 So I might be really far behind on this - but they are doing a movie of the book
Water for Elephants
(which is a book that I credit for getting me back into the "reading" groove at the end of last year) and I am very excited for it. Reese Witherspoon and Robert Pattinson star - and the actually really fit how I would imagine the characters to look like.
So first I want to encourage you to read the book first. The
movie
isn't due out until 2011... so you have some time.
Second, check out this write up on
Babble
(its where I got this photo as well) - but the discussion of what its like to be Ava Witherspoon and watch your mom kiss Robert Pattinson is funny.
P.S. I didn't know that he was the guy from Twilight until I asked someone.