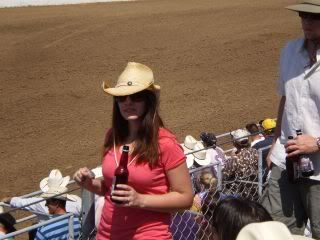 Last weekend I got to experience a rodeo for the first time. I went to the
Clovis Rodeo
with my fiance and his family and we had an awesome time. As you can see in this photo I went all out - hat, beer and all. The buckin' broncos were awesome... and the horses were all just beautiful. It was a really fun time - even if it was the warmest day so far this year.
Saturday is the
136th Kentucky Derby
- so I'll get to see more horses... and the rest of the triple crown races will follow. I've always been a fan of horses and this time of year always emphasizes it. So I've been starting to look over the info on the Derby horses -- and I'm liking
Awesome Act
and
Paddy O'Prado
. But I mean - look at Paddy - how can you not like her?
Anyways all these horses have really made me miss horseback riding. Not that I used to go all the time - but to me it just envokes good memories and even a sense of calm.
So here are my top three picks for the Kentucky Derby (in order): Awesome Act, Paddy O'Prado and
Mission Impazible
! Has anyone else made picks yet?
Here's to julips and hats on Saturday!