I stumbled upon this great etsy shop that had both owl items and honeybee items - so I decided I had to share.
Postcards + Love
carries some awesomely unique jewelry pieces - most of which I find myself wishing I owned.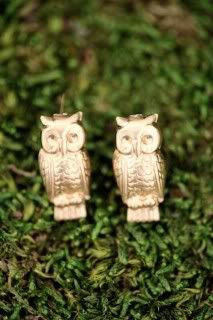 The
wise owl earrings
are simple but beautiful. They are brass and from what I can tell look like they would be small enough that they wouldn't be to large for your ear.
I also love the depth in the photos of all her jewelry pieces. It really makes it pop with the brass on the green background too!
Check out this
honey bee ring
. Again, like the owls it has the lovely brass look to it and is, again, so simple. At $15 for each of these items - they are affordable for such unique jewelry.
Another peice that I found myself drawn too was this
vintage mesh buckle bracelet
. I think the brass with a slight tarnish really adds to the vintage feel for this piece - but at the same time its a style that I find pretty timeless.
So head on over to the Etsy shop
Postcards + Love
. Hope you enjoy this shop as much as I did!