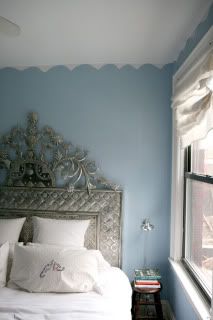 So I know everyone wants to paint their walls interesting colors to add a little personality. But for those who might want that extra "umph" - here is an idea I ran across on
Apartment Therapy
.
Look at the top of these walls where they meet the ceiling. The irregular bumps in this color completely remind me of clouds and I think add some character. The word whimsy is a perfect description. You can look at more pictures of
Amy Helfand's
home for great inspiration.
I personally love the headboard to her bed! It's the Hacienda style from
Casa Midi
. And I just love it.
All I need now is a house that I can afford in the right part of town - so that I can paint and decorate!