Well I meant to post this last weekend - but it's been a busy week. Last weekend I found this absolutely amazing recipe in my inbox. I love subscribing to newsletters of some of my favorite stores and brands - but I really rarely have time to actually read them.
Luckily, I looked at this newsletter from Whole Foods. The picture pulled me right in.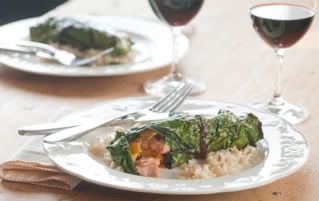 Can you see what I mean? Salmon and Swiss Chard grabbed my attention - and the recipe got even better when I read it and it had orange and chipotle in it.
And the best part is it was easy to do and tasted AMAZING.
I'm hoping to share more recipes through this blog that I find that are easy and yummy... And if you are in need of a little food inspiration try the Whole Foods Newsletter!