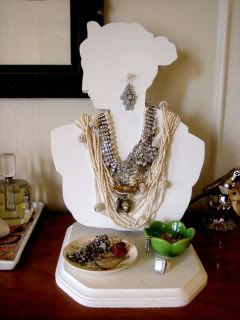 While browsing through one of my favorite creative blogs
Design*Sponge
I found another great DIY project I'd love to try. While I still haven't attempted the
necklace
I posted about earlier - I thought I'd share it anyways. Maybe I'm due for a trip to Michael's and Home Depot.
This
Jewelry Bust
seems like a great way to keep your necklaces from getting all tangled up - which is a big problem with my jewelry box I use now. Plus maybe I'd wear my necklaces more if I saw them in the morning when I wake up?
Upon further reading of the directions... I've realized that I lack the tools (um, jig saw? table clamps? safety googles?) to make something like this.
Maybe these are things I should invest in if I'm thinking of getting crafty?? Or do I just do it the Martha Stewart way and buy a
vintage bust
to display my jewelry?