Flower Alternatives...
I'm not a big fan of cut flowers. They are pretty --- but they are expensive and they die. I know that seems a little harsh - but I don't know how else to put it. I've just never been a big flower person. Since flowers are a big party of wedding tradition - I've been please at the alternatives I've seen lately.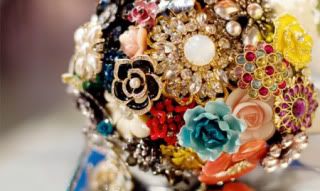 The photo above shows a bouquet made from vintage brooches and earrings - and I think it's amazing. Along with getting to possibly include family heirlooms in your wedding (something old for the traditionalists) you have something that will last and always be there to remind you of your day. Ebay, Estate Sales and Vintage Shops here I come...