Well. It's been a few days. I'm not so good at finding the time to type... But here are somethings to click...
Since I've been going to beginning pilates this month - I found this quick way to workout at your desk at My Inspiration Lounge interesting. Don't know if I'd actually do that at my desk.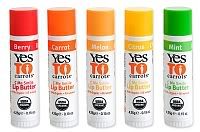 The "Yes to Carrots!" Campaign has lip tints and lip butters that they sell (nevermind, the hand, hair, body, face care items they sell as well). It's intreguing enough that I'm tempted to buy one. Carrot flavor, of course. Maybe the Shampoo too.
And happy Earth Day one day late. Hope you did something earthy.